Lakeview Supermarket's Deli has the highest and best quality salads, lunchmeats and cheeses. Just one taste will make you a believer. And by all means, please ask for a sample of our wonderful cheeses or sandwich meats. And speaking of sandwiches, we use only Best Foods Mayonnaise, and serve your sandwich on a huge variety of breads and fresh baked French rolls. We always pile on a full ¼ LB of your favorite meat, and for a little extra will make your sandwich half-and-half. We can put double meat on your sandwich for a price, and can even make yours vegetarian if your are so inclined.
In case you haven't heard Lakeview Deli now has awesome huge 16″ take-n-bake Pizzas starting at $9.99 for Cheese, $10.99 for pepperoni and only $14.99 for great combination pizzas. See our Pizza menu for a complete menu of options or customize one!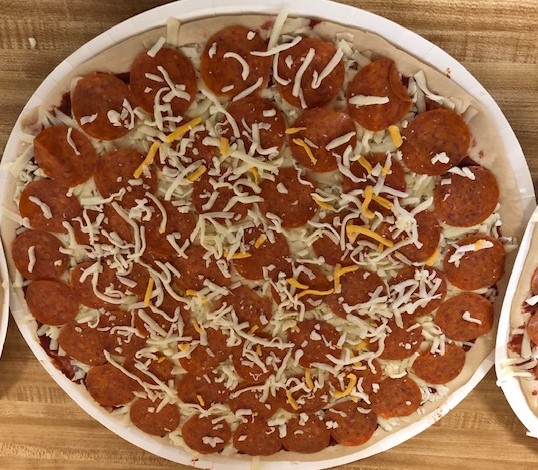 Also new in our Deli, we have a complete gourmet coffee menu with Cappuccino, Espresso, Latte, Mocha, Vanilla Cappuccino, blends, extra shots, and even Hot chocolate starting at just $1.99!
Since we have a full produce department in our Deli, you will always get great tomatoes, crispy fresh lettuce and avocado when you want it. We add great pepperoncini's and the best crinkle cut pickles at no extra charge, and of course onions if you so desire!
Your sandwich can be made from any of our 30 or so meats and you can have your choice of cheese for just another 50 cents.
And if that wasn't enough we have a "Lakeview Sandwich Card" which will get you a free sandwich after you buy 10.
When you pick up your sandwich get a small side salad. Our Deli always has at least a dozen or so of the freshest salads, available in ¼ LB cups, ½ LB, 1lb, and 2lb tubs to full bowls for your parties.
You will always get the best value on sandwiches, salads, cheeses and deli meats since we are a large volume, full service grocery store and deli.
If you are ever dissatisfied or even think there is a problem with anything we sell, we will take care of your problem, and do whatever it takes to make you happy!
We have been in business for over 50 years and are in business for the long haul. One of our goals is 100% customer satisfaction, and we do everything to please our clients.
At Lakeview we believe that our profits will come to us over the years, by serving our community and giving great value and the highest & best products and services to our clients and customers!
Want a Sandwich? Take a look at the current list of lunchmeats, cheeses and breads we have to build your own special sandwich:
Lunchmeats
Black Forest Ham, Honey Ham, Smoked Ham, Turkey Breast, Dry Salami, Roast Beef, Pastrami, Mortadella, , Smoked Turkey Breast, Santa Fe Turkey, Peppered Turkey, Rosemary Garlic, Liverwurst, and even Bologna!
Cheeses Imported and Domestic
Cheddar, Monterey Jack, Swiss, American, Provolone, Mozzarella, Hot Pepper, Havarti, Smoked Cheddar, Hot Buffalo Cheddar And Smoked Gouda.
Sandwich Rolls and Breads
Fresh Baked Sourdough French Roll, 6" Seeded Sub Roll, Light or Dark Rye, Swedish Rye, and Whole Wheat
Salads and other Treats
Potato, Red Potato, Deviled Egg Potato Salad, Macaroni, Sicilian Pasta, Asiago Pasta, Cole Slaw, Ambrosia Fruit Salad, Fresh Fruit Salad (Seasonal), Jello Salad. *Crab Salad Priced Higher (We also have marinated mushrooms!)
What about Hot Food?
We have delicious Fried chicken ready to go every morning starting at about 10:00 am. We have juicy drumsticks, plump thighs and extra meaty breasts, along with some wonderfully spicy hot wings, available everyday!
Our tasty crispy chicken is served with or without freshly sliced potatoes battered and fried just right! They are a great side to your fried chicken and you can get ranch dressing on request!
In addition to our great chicken we also have corn dogs in two different flavors, deep fried burritos, chicken breast strips and Jalapeno stuffed poppers with your choice of cream cheese or cheddar cheese. Our Deli even has Onion rings!
If you are hungry we have something for you! How about a deli pickle, or a fresh baked cookie, or loaf of banana nut bread? L We also feature a highly addictive oven-ready Garlic Cheese French Bread; you will love!
Come in and visit us at Lakeview Supermarket and Deli, you will be glad you did!